Lightly Smoked Cod
Total time: 30 minutes
     This is a cross between smoker cooking and grilling, and it flavored the cod perfectly:  a light smoke and dill combination.  It needed nothing else.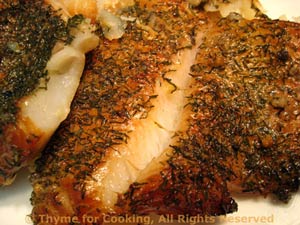 Ingredients:
2 filets of cod, or or other thick, firm white fish, 350gr, 12.5oz 
2 tsp dill weed
1 tbs olive oil, 13.5gr, 4.8oz
1 tsp soy sauce, 5.3gr, .19oz
wood chips for smoking - apple is nice See Barbecue Grills for more info
Weber-type kettle barbecue with charcoal or Gas Grill
Instructions:
Put some charcoal in the barbecue, off to one side and light it.  If you are using small, commercial wood chips, put them in water to soak.  
Mix the soy sauce and the olive oil.  Brush on the fish.  Sprinkle the dill weed on top. 
When the coals are glowing, add the fish - either in a basket or on a grill mat of some sort, to the other side - in other words, not over the coals. 
Throw some wood chips on the coals and cover. 
Check it halfway through and add more wood chips if it has stopped smoking. It's done when if flakes easily with a fork.  We left ours on for about 30 minutes.
To use a gas grill:   Only light one side of the grill.  Wrap the soaked wood chips loosely in foil.  Poke a few holes in the foil and place on the grill.  Keep the fish off of direct heat and the grill cover closed and vented or propped open an inch or so. 
To use oven:  The fish could also be baked, 400F (200C) for 15 to 20 minutes.  It won't have the smoke flavor, of course, but the dill and soy sauce add a lovely flavor on their own.
---------------------------------------------------------
              

Nutrition Information
            

 


Recipe serves 2 
          Entire Recipe /

per serving




Calories:

  

409

/ 204.5




Total Carbohydrates:

  

.5

/ .25


          Dietary Fiber:

0

/ 0




Total Fat:

 

16

/ 8


         Saturated Fat: 

2

/ 1




Cholesterol:

 

150

/ 75




Protein:

 

62

/ 31




Calcium:

 

57

/ 28.5




Sodium:

 

490

/ 245
General Technical Details and Disclaimer:
Measurements are actual measurements used for calculation. If there are no values the nutritional numbers were simply too small.
I try to be accurate, but I do not guarantee it.  I use 'grams' as the unit of weight; with an approximate conversion to ounces.
My information comes from my own digital, computerized scale and the USDA Nutrient Data Library: http://ndb.nal.usda.gov/