Creamy Caper and Roasted Potato Salad
Total time: 30 minutes
     Roasted potatoes, tossed with a creamy, Greek yogurt based dressing, makes an easy side dish for summer.  Lots of fresh, garden herbs and capers brings this simple potato salad out of the ordinary.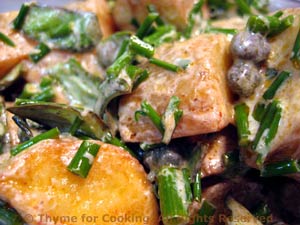 Ingredients:
2 medium potatoes, 300gr, 10.6oz
1 tbs olive oil, 13.5gr, .48oz
1 tsp paprika, 2.1gr, .07oz
2 tbs Greek or plain yogurt, 37.5gr, 1.3oz
1 tbs white wine tarragon vinegar, 15gr, .53oz
1 tbs good olive oil, 13.5gr, .48oz
1 tbs capers, 8.6gr, .3oz
2 tbs snipped fresh chives
1 tbs snipped fresh basil
 Instructions:
Potatoes: 

Slice potatoes in half the long way, then in half again. Then slice in half or thirds the short way. 

Put oil and paprika into bowl and mix.  Add potatoes and stir, coating thoroughly. 

Put them into an old metal pie plate or cake tin or foil barbecue container (or whatever) that you will never use for any purpose but the barbecue again

...

and you should have one of these

. 

Cook on barbecue (grill) for 25 - 35 minutes or until done... and you will need to stir them with a long-handled wooden spoon occasionally as they tend to develop 'hot spots' and can get a little crispy.   

Or

y

ou can roast them in the oven.  Arrange potatoes on baking sheet with rim (I use my trusty, round pizza pan) Bake at 400F for 30 minutes.

Salad:

 

Snip herbs. 

Put yogurt, vinegar and oil in a medium bowl and whisk well. 
Add capers and herbs and stir. 

When potatoes are done, add to dressing and stir to combine.  Serve hot, warm or cold.

  
---------------------------------------------------------
              

Nutrition Information
             
Recipe serves 2  
          Entire Recipe /

per serving




Calories:

  

526

/ 263




Total Carbohydrates:

  
56
/ 28


          Dietary Fiber:

8

/ 4




Total Fat:

 

31

/ 15.5


         Saturated Fat:  

6

/ 3




Cholesterol:

 

7.5

/ 3.75




Protein:

 

8

/ 4




Calcium:

 

100

/ 50




Sodium:

 

280

/ 140
General Technical Details and Disclaimer:
Measurements are actual measurements used for calculation. If there are no values the nutritional numbers were simply too small.
I try to be accurate, but I do not guarantee it.  I use 'grams' as the unit of weight; with an approximate conversion to ounces.
My information comes from my own digital, computerized scale
and the USDA Nutrient Data Library: http://ndb.nal.usda.gov/