Soy Sauce/Mustard Turkey Cutlets Grilled
Total time: 25 minutes
Thin turkey cutlets go well with any marinade and are quickly cooked for an easy main course. Thin pork or veal cutlets can be substituted, or chicken breasts. If you can't find turkey, and want it, buy a breast or tenderloin and either have your butcher slice it or do it yourself.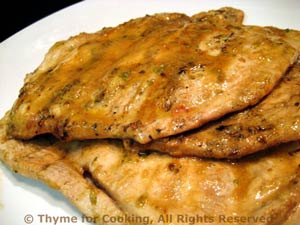 Ingredients:
2 - 4 turkey cutlets, depending on size, 350gr, 12.4oz
1 tbs soy sauce, 16gr, .56oz
1 tbs Dijon-style mustard, 15gr, .53oz
3 tbs white wine tarragon vinegar, 45gr, 1.58oz
3 tbs olive oil, 40.5gr, 1.4oz
1/3 tsp garlic powder
1/2 tsp oregano, dried
Instructions:
In small bowl whisk together all ingredients except turkey.
Put turkey in a glass baking dish and pour marinade over. Let marinate for 15 - 20 minutes or up to 2 hours.
Remove from marinade and cook on hot barbecue grill for 3 - 4 minutes per side or until done.

OR

sauté in nonstick skillet for 4 - 6 minutes a side or until done. Remove and serve.
---------------------------------------------------------
Nutrition Information



Recipe serves 2
Entire Recipe /

per serving




Calories:

580

/ 290




Total Carbohydrates:

1

/ .5


Dietary Fiber:

.5

/ .25




Total Fat:

23

/ 11.5


Saturated Fat:

4

/ 2




Cholesterol:

216

/ 108




Protein:

87

/ 43.5




Calcium:

44

/ 22




Sodium:

710

/ 355
General Technical Details and Disclaimer:
Note: Nutrition info assumes 50% of marinade is eaten.
Measurements are actual measurements used for calculation. If there are no values the nutritional numbers were simply too small.
I try to be accurate, but I do not guarantee it. I use 'grams' as the unit of weight; with an approximate conversion to ounces.
My information comes from my own digital, computerized scale and the USDA Nutrient Data Library: http://ndb.nal.usda.gov/