Filet Mignon with Glazed Mushrooms
Total time: 35 minutes
     Small, thick-cut filet mignon are perfect done on the barbecue grill.  A wrap of bacon adds flavor and helps the steak stay moist.   We've painted these with a light marinade and served with some savory glazed mushrooms.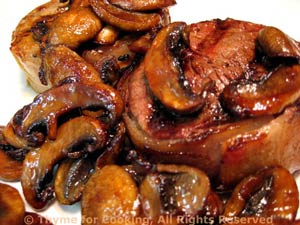 Ingredients:
2   6 - 8 oz filet mignon steaks (tournedos), 400gr, 14oz
2 - 4 strips bacon  optional, 50gr, 1.8oz
4oz mushrooms, 125gr, 4.4oz
1 tbs butter, 14.2gr, .5oz
1 tbs Worcestershire Sauce, 17gr, .59z

Marinade

1 tbs olive oil, 13.5gr, .48oz
1 tbs Worcestershire Sauce, 17gr, .59oz
1 tbs ketchup, 15gr, .53oz
1/2 tsp dried oregano
1/2 tsp chili powder
1/2 tsp garlic powder
 Instructions:
Wrap bacon around steaks (is using) and secure with toothpicks or kitchen string. 

Mix Worcestershire sauce, oil, ketchup, oregano, chili, garlic and brush on steaks.  Set aside. 
Clean mushrooms and thickly slice. 
Heat butter and Worcestershire in medium nonstick skillet over medium heat.  Add mushrooms and sauté, stirring frequently, until they are dark and glazed, about 10 minutes.  You may have to turn the heat down a bit after 7 or 8 minutes.  Set aside and partially cover to keep warm. 
Cook steaks on barbecue grill until done to your liking - about 3 minutes per side for medium rare, 4 5 minutes per side for medium, but it depends on ....thickness of steak, heat of grill, etc.  Check out this site for the 'thumb test'. Put a steak on each plate, spoon mushrooms on the side and serve. 

Note:

  Could be done under the broiler (grill) for about the same time.
---------------------------------------------------------
              

Nutrition Information
            

 


Recipe serves 2 
          Entire Recipe /

per serving




Calories:

  

1139

/ 569.5




Total Carbohydrates:

  

15

/ 7.5


          Dietary Fiber: 

1

/ .5




Total Fat:

 

76

/ 38


         Saturated Fat: 

29

/ 14.5




Cholesterol:

 

205

/ 102.5




Protein:

 

94

/ 47




Calcium:

 

149

/ 74.5




Sodium:

 

1221

/ 610.5
General Technical Details and Disclaimer:
Measurements are actual measurements used for calculation. If there are no values the nutritional numbers were simply too small.
I try to be accurate, but I do not guarantee it.  I use 'grams' as the unit of weight; with an approximate conversion to ounces.
My information comes from my own digital, computerized scale and the USDA Nutrient Data Library: http://ndb.nal.usda.gov/