White Bean (Cannellini) and Radish Salad
Total time: 10 minutes (plus eggs)
     Radishes are so plentiful in the spring, and/or easy to grow your own.  The beans and vinaigrette tone down the heat, letting their flavor shine. A 15oz can of beans yields about 1 1/2 cups, rinsed and drained beans.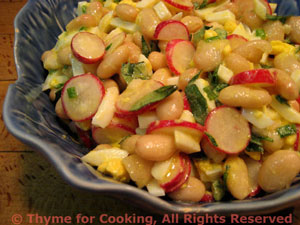 Ingredients:
1 1/2 cup white beans (cannellini), 270gr,  9.5oz
1/2 cup sliced radishes, 58gr,  2oz

1 tbs freshly snipped chives

   

substitute 1 tsp dried

1 clove garlic, minced, 4gr,  .14oz
1 hard boiled egg, 65gr,  2.3oz

Lettuce leaves,

a few for serving

Vinaigrette

1 tbs tarragon white wine vinegar, 15gr, .53oz
1 tbs lemon juice, 15gr,  .53oz

1 tbs chopped fresh chives   

substitute 1 tsp dried

1 shallot, 22gr,  .77oz
1 clove garlic, 4gr,  .14oz
2 tsp Dijon-style mustard, 10gr,  .35oz
3 tbs good olive oil, 40.5gr,  1.4oz
 Instructions:
Boil eggs (see techniques). 
Drain and rinse beans and put in a medium bowl. 
Slice radishes, mince garlic, snip chives and add all to beans.  

Make Vinaigrette:

Mince (chop finely - see techniques for definitions) shallots and garlic, snip chives and put in medium bowl with vinegar, juice and mustard. 
Whisk well. 
Add oil very slowly whisking all of the time.  It should incorporate as you add it.  If it does not, stop adding oil for a few moments and just whisk.  Continue until all oil is added.  Add salt and pepper if desired.
Add vinaigrette to salad and toss gently. 
When eggs are cooked, peel and chop coarsely.  Add to bean salad and mix lightly. 
Arrange 3 - 4 nice lettuce leaves on salad plates, put bean salad on top and garnish with olives if you have them.
---------------------------------------------------------
              

Nutrition Information
             
Recipe serves 2 
          Entire Recipe /

per serving




Calories:

  

874

/ 437




Total Carbohydrates:

  
78
/ 39


          Dietary Fiber:

19

/ 9.5




Total Fat:

 

48

/ 24


         Saturated Fat: 

8

/ 4




Cholesterol:

 

275

/ 137.5




Protein:

 

33

/ 15.5




Calcium:

 

321

/ 160.5




Sodium:

 

888

/ 444
General Technical Details and Disclaimer:
Measurements are actual measurements used for calculation. If there are no values the nutritional numbers were simply too small.
I try to be accurate, but I do not guarantee it.  I use 'grams' as the unit of weight; with an approximate conversion to ounces.
My information comes from my own digital, computerized scale
and the USDA Nutrient Data Library: http://ndb.nal.usda.gov/