Individual Apple Crisps
Total time: 45 minutes

     These little Crisps are quick to go together and bake in just 30 minutes. Perfect to have in the oven while you eat a leisurely dinner.  Serve with a scoop of vanilla ice cream or yogurt if you like.  I use small baking dishes that are about 4" (10cm) in diameter. Granny Smith, Golden Delicious, Pink Lady are all good apple choices.
 Ingredients:
2 medium cooking apples, 400gr, 14oz
2 tbs brown sugar, 18gr, .64oz
2 tbs flour, 20gr, .7oz
2 tbs rolled oats, 20gr, .7oz
2 tbs chilled butter, 28.4gr, 1oz
1/2 tsp cinnamon
1/4 tsp nutmeg
a bit more butter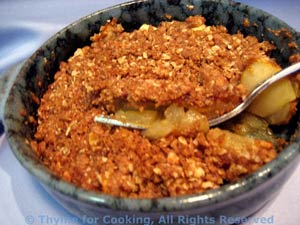 Instructions:
Butter individual baking dishes or one small baking dish.  
Mix sugar, spices, flour and oats. 
Cut in butter, using a pastry cutter, 2 knives or forks, until it resembles small pebbles.
Peel and slice apples and spread in baking dish. 
Sprinkle crumble mixture over apples. 
Bake 30 minutes at 375F (185C), until top is brown and apples are tender.  
Note:  If you use individual baking dishes, put them on a baking sheet to make handling easier.
---------------------------------------------------------
               Nutrition Information
             
Recipe serves 2 
          Entire Recipe / per serving
Calories:  628 / 314
Total Carbohydrates:  101 / 50.5
          Dietary Fiber: 12 / 6
Total Fat: 25 / 12.5
         Saturated Fat: 14 / 7
Cholesterol:  62 / 31
Protein:  6 / 3
Calcium:  58 / 29
Sodium:   174 / 87
General Technical Details and Disclaimer:
Measurements are actual measurements used for calculation. If there are no values the nutritional numbers were simply too small.
I try to be accurate, but I do not guarantee it.  I use 'grams' as the unit of weight; with an approximate conversion to ounces.
My information comes from my own digital, computerized scale and the USDA Nutrient Data Library: http://ndb.nal.usda.gov/