Stir-fried Shrimp with Snow Peas (Mangetout)
Total time: 20 minutes
     The bright green pea pods make this a showy dish, delicious served on fluffy, fragrant Basmati Rice.  I don't normally use all of the water chestnuts in the can - mon mari snacks on them.  Use as many as you like.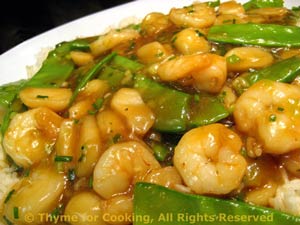 Ingredients:
12oz cleaned shrimp, 350gr, 12.3oz cleaned
5oz snow peas (mangetout), 150gr, 5.3oz
3/4 cup water chestnuts, 100gr, 3.5oz
4 - 5 green onions, 48gr, 1.7oz
2 cloves garlic, 8gr, .28oz

1 tbs minced fresh ginger  

substitute 1/4 tsp ground ginger

1 tbs fresh, snipped chives
2 tsp sesame or walnut oil, 9gr, .32oz
2 tsp olive oil, 9gr, .32oz
1/2 cup chicken stock, 112gr, 4oz
2 tbs dry sherry, 30gr, 1oz
1 tbs cornstarch (Maizena, corn flour), 8gr, .28oz dissolved in
1 tbs soy sauce plus 1 tbs water, 16gr, .56oz

Basmati Rice

1/2 cup Basmati rice, 90gr, 3.2oz
1 tsp butter, 5gr, .17oz
1/2 tsp sesame or walnut oil, 2gr, .07oz
1 cup chicken stock, 225gr, 8oz
 Instructions:
To Prep:

Peel and clean shrimp if needed. 
Trim the green onions, slicing off the root and removing 1 layer.  Thinly slice, using some of the darker green. 
Mince garlic and ginger (peel it first). 
Snip chives.
Trim snow peas, cutting the ends off. 
Open and drain water chestnuts; slice the large ones. 
Dissolve cornstarch in soy sauce and water. 

To Cook:

Heat oils in large nonstick skillet over medium-high heat.   Add onions to skillet and stir-fry for 30 seconds. 
Add garlic, ginger, shrimp, stir-fry 1 minute, until shrimp start to curl and turn opaque. 
Add snow peas, water chestnuts, and stir-fry 1 - 2 minutes. 
Add chicken stock and sherry, bring to a boil. 
Add cornstarch mixture, stir until cleared and thickened. 
Stir in chives.  
Add more soy sauce if desired, according to taste. 

To Serve:

 
Arrange Basmati on a large platter.  Spoon Shrimp and Snow Peas on top and serve.
Basmati Rice
Heat butter and oil in a small saucepan over medium heat.  Add rice and sauté, stirring for 1 - 2 minutes. 
Add stock or water.  Cover and cook rice for length of time on package. 
When done fluff with fork and serve.
-----------------------------------------------------------
                Nutrition Information
                
Recipe serves 2 
          Entire Recipe / per serving
Calories:   1186 / 593
Total Carbohydrates:  126 / 63
          Dietary Fiber:  9 / 4.5
Total Fat:  35 / 17.5
         Saturated Fat:  7 / 3.5
Cholesterol:  550 / 275
Protein:  88 / 44
Calcium:  252 / 126
Sodium:  2015 / 1007.5

General Technical Details and Disclaimer:
Measurements are actual measurements used for calculation. If there are no values the nutritional numbers were simply too small.
I try to be accurate, but I do not guarantee it.  I use 'grams' as the unit of weight; with an approximate conversion to ounces.
My information comes from my own digital, computerized scale and the USDA Nutrient Data Library: http://ndb.nal.usda.gov/