Pork Chops with Maple Syrup
Total time: 30 minutes
     I used boneless chops for this, about 1/2" (1.25cm) thick.  They cooked quickly, but, remember, slightly pink pork is okay, and keeps it tender and moist. If you don't have maple syrup you can use honey, or even brown sugar.  It's a simple, flexible recipe!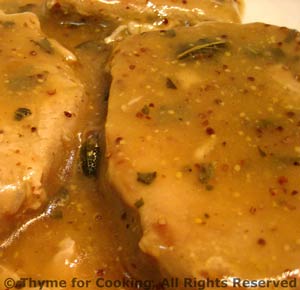 Ingredients:
2 - 4 pork chops, depending on size, 10 - 12 oz total weight, 350gr, 12.5oz boneless top loin chops
2 tsp olive oil, 9gr, .32oz
1/2 cup beef stock, 112.5gr, 4oz
1/4 cup white wine, 60gr, 2.1oz
1 tbs maple syrup (or honey), 20gr, .7oz maple syrup
1 tbs whole or coarse grained mustard  (or Dijon-style mustard), 15gr, .53oz
1 tbs dried sage
2 tsp cornstarch (corn flour, maizena) dissolved in 1 tbs water, 5.2gr, .18oz
 Instructions:
In medium nonstick skillet heat oil over medium heat.  Add pork chops and brown on both sides, about 5 minutes each.
Add beef stock, wine, maple syrup, mustard and sage.  Cover, reduce heat and simmer 10 minutes.
Uncover and remove chops to small platter.  Cover to keep warm.
Increase heat under skillet.  Dissolve cornstarch in water and stir into simmering sauce. 
Spoon some sauce over chops and serve, remaining sauce on the side.
---------------------------------------------------------
              

Nutrition Information
             
Recipe serves 2 
          Entire Recipe /

per serving




Calories:

  

753

/ 376.5




Total Carbohydrates:

  
21
/ 10.5


          Dietary Fiber:

.6

/ .3




Total Fat:

 

38

/ 19


         Saturated Fat: 

10

/ 5




Cholesterol:

 

234

/ 117




Protein:

 

77

/ 38.5




Calcium:

 

58

/ 29




Sodium:

 

707

/ 353.5
General Technical Details and Disclaimer:
Note:  Pork chops vary greatly in calories; this assumes top loin chops with fat trimmed but not completely removed.  Center cut chops are higher; sirloin cut chops are lower.
Measurements are actual measurements used for calculation. If there are no values the nutritional numbers were simply too small.
I try to be accurate, but I do not guarantee it.  I use 'grams' as the unit of weight; with an approximate conversion to ounces.
My information comes from my own digital, computerized scale
and the USDA Nutrient Data Library: http://ndb.nal.usda.gov/