Couscous Salad
Total time: 15 minutes
     Couscous does not have to be dry and boring.  It also doesn't need cooking which makes it the perfect fast food.  Heat the stock, do a bit of chopping and you're done! Another dish that can help clean out the fridge.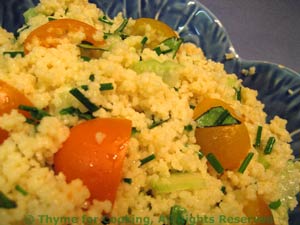 Ingredients:
1/2 cup couscous, 90gr, 3.2oz
3/4 cup chicken broth, 170gr, 6oz
1/3 cup cherry tomatoes, 60gr, 2.1oz
1 rib celery, 50gr, 1.8oz
2 tbs snipped chives
2 tbs white balsamic vinegar, 32gr, 1.1oz
1 tbs good olive oil, 13.5gr, .48oz
1 1/2 tsp Dijon-style mustard, 7.5gr, .26oz
 Instructions:
Cut tomatoes in half. 
Chop celery. 
Heat chicken broth to a boil. 
Put couscous in a medium bowl. 
When broth is boiling pour over couscous, cover and let stand for 10 minutes... Do not stir it. 
Snip chives. 
Add chives, tomatoes and celery to couscous.  Fluff gently with a fork to combine. 
Put the vinegar, mustard and oil in a small bowl.  Whisk well and stir into couscous. Serve.
---------------------------------------------------------
               Nutrition Information
             
Recipe serves 2 
          Entire Recipe / per serving
Calories:  518 / 259
Total Carbohydrates:  80 / 40
          Dietary Fiber: 7 / 3.5
Total Fat:  15 / 7.5
         Saturated Fat: 2 / 1
Cholesterol:  0 / 0
Protein:  20 / 10
Calcium:  70 / 35
Sodium:   414 / 207
General Technical Details and Disclaimer:
Measurements are actual measurements used for calculation. If there are no values the nutritional numbers were simply too small.
I try to be accurate, but I do not guarantee it.  I use 'grams' as the unit of weight; with an approximate conversion to ounces.
My information comes from my own digital, computerized scale
and the USDA Nutrient Data Library: http://ndb.nal.usda.gov/