Pasta with Cannellini Sauce
Total time: 25 minutes
     White beans make a wonderful creamy sauce, without the cream and lots of cheese.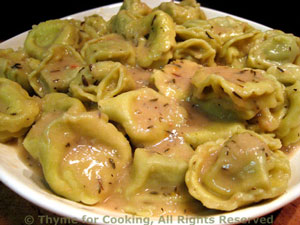 Ingredients:
1 1/2 cups cheese filled tortellini, 160gr, 5.6oz
1 cup white beans, drained and rinsed, 180gr, 6.4oz
2 shallots or 1/2 onion, 45gr, 1.6oz shallot
1 clove garlic, 6gr, .2oz
2 tsp olive oil, 9gr, .32oz
1/4 cup white wine, 60gr, 2.1oz
1/2 cup chicken stock, 112gr, 4oz
1/2 tsp thyme
 Instructions:
Cook pasta according to package directions.
Chop shallot/onion; mince garlic.
Heat oil in a medium saucepan.  Add shallot and garlic and sauté until tender.
Drain and rinse beans. 
Add beans, wine and chicken stock to saucepan.  Bring to a boil and simmer 5 minutes.
Remove and purée in blender or with immersion blender.
Return to heat, stir in thyme and bring to a simmer.
When pasta is ready, remove sauce from heat, pour over pasta and serve.
---------------------------------------------------------
               Nutrition Information
             
Recipe serves 2 
          Entire Recipe / per serving
Calories:  919 / 459.5
Total Carbohydrates:  133 / 66.5
          Dietary Fiber: 16 / 8
Total Fat:  22 / 11
         Saturated Fat: 4 / 2
Cholesterol:  68 / 34
Protein:  42 / 21
Calcium:  434 / 217
Sodium:   1174 / 587
General Technical Details and Disclaimer:
Measurements are actual measurements used for calculation. If there are no values the nutritional numbers were simply too small.
I try to be accurate, but I do not guarantee it.  I use 'grams' as the unit of weight; with an approximate conversion to ounces.
My information comes from my own digital, computerized scale
and the USDA Nutrient Data Library: http://ndb.nal.usda.gov/