Sweet and Sour Chicken Salad
Total time: 25 minutes
     You can use bottled Sweet and Sour Sauce or my recipe - which makes just the right amount.  I usually use mushrooms raw in salads, but sometimes, as here, they are sautéed to absorb and blend the flavors.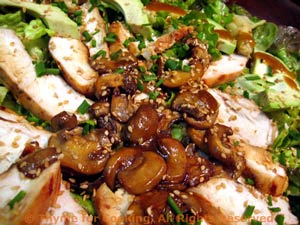 Ingredients:
2 chicken breasts, boneless, skinless, 350gr, 12.4oz
8oz white or green asparagus, 250gr, 8.8oz net
1 avocado, 170gr, 6oz
4oz mushrooms, 125gr, 4.4oz
1 tbs fresh snipped chives    substitute 1 tsp dried
1 tbs toasted sesame seeds, 9gr, .32oz
3 tbs Teriyaki sauce, 54gr, 1.9oz
2 tsp walnut or sesame oil, 4.5gr, .16oz
Lettuce, enough for 2 main course salads, 200gr, 7oz

Sweet and Sour Sauce

1 tbs sugar, 12.5gr, .44oz
1 tbs cider vinegar, 15gr, .53oz
2 tbs soy sauce, 32gr, 1.1oz
1 tsp cornstarch (maizena), 2.6gr, .09oz

Sweet and Sour Dressing

1/4 cup sweet and sour sauce
1/2 tsp dry mustard
1/2 tsp garlic powder
1 tbs cider vinegar, 15gr, .53oz
1/4 cup good olive oil, 54gr, 1.9oz
 Instructions:
Pour 2 tbs Teriyaki sauce over chicken and allow to marinated a few minutes.
Clean and thickly slice mushrooms.
In nonstick skillet heat oil and 1 tbs Teriyaki sauce.  When hot add mushrooms and sauté briefly, about 4 minutes.  Remove and set aside.
Cook chicken on barbecue grill over direct heat for 8 - 10 minutes per side.  When done remove and slice.
Or: cut into strips before marinating, toss with Teriyaki sauce and stir-fry in nonstick skillet in 1 tbs oil for 4 - 5 minutes.
Slice avocado.
Snip chives.
Open and drain asparagus.
Prepare lettuce and put into a large salad bowl along with chives.  Toss with about half of the vinaigrette - it's quite thick so it takes a bit of tossing to distribute it well - be careful not to use too much to start.
When it is to your liking, arrange chicken, asparagus, mushrooms and avocado artfully on top.
Drizzle with a bit more vinaigrette, sprinkle with sesame seeds, and serve with remaining vinaigrette on the side.
Sweet and Sour Sauce
In a small saucepan, heat sugar, vinegar, soy sauce and cornstarch to boiling, stirring with a whisk.
Cook until thick and clear, about 1 minute.  Allow to cool
Sweet and Sour Dressing
Put all ingredients in a small bowl and whisk well to combine.
---------------------------------------------------------
    Nutrition Information
  Sweet and Sour Dressing
Recipe serves 2 
          Entire Recipe / per serving
Calories:  558 / 279
Total Carbohydrates:  18 / 9
          Dietary Fiber: .5 / .25
Total Fat:  54 / 27
         Saturated Fat:  8 / 4
Cholesterol:  0 / 0
Protein:  4 / 2
Calcium:  9 / 4.5
Sodium:  1804 / 902


   Nutrition Information


Complete

Salad/all the Dressing


Recipe serves 2 
          Entire Recipe /

per serving




Calories:

  

1466

/ 733




Total Carbohydrates:

  

58

/ 29
          Dietary Fiber:  22

/ 11




Total Fat:

 

99

/ 49.5


         Saturated Fat: 

15

/ 7.5




Cholesterol:

 

224

/ 112




Protein:

 

97

/ 48.5




Calcium:

 

279

/ 139.5




Sodium:

 

3327

/ 1663.5
General Technical Details and Disclaimer:
Measurements are actual measurements used for calculation. If there are no values the nutritional numbers were simply too small.
I try to be accurate, but I do not guarantee it.  I use 'grams' as the unit of weight; with an approximate conversion to ounces.
My information comes from my own digital, computerized scale and the USDA Nutrient Data Library: http://ndb.nal.usda.gov/