Spinach Salad
Total time: 15 minutes
A heart-healthy salad, that's also good for the eyes (spinach: lutein) and the bones (spinach, almonds and cheese: calcium). Plus it's delicious! What more can we ask for?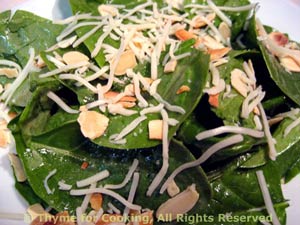 Ingredients:
fresh spinach, enough for 2, 170gr, 6oz
1/4 cup slivered almonds, 30gr, 1oz
3 tbs shredded cheese, 22.5gr, .8oz
1/8 tsp salt - sea salt if you have it .75gr, .02oz

Vinaigrette

2 tsp lemon juice, 10gr, .35oz
2 tsp Dijon-style mustard, 10gr, .35oz
1/4 tsp garlic powder
2 tbs good olive oil, 27gr, .96oz
Instructions:
Wash spinach if necessary, tear and put into a salad bowl.
Add almonds and salt to spinach and toss to combine.
Add half of the vinaigrette and toss to coat.
Taste and add more as needed.
Sprinkle with cheese.
Serve, remaining vinaigrette on the side.
Vinaigrette
Put all remaining ingredients except olive oil in small bowl and whisk to combine.
Slowly drizzle in olive oil, whisking constantly.
This will keep about a week and can be used as a base for other vinaigrettes.
---------------------------------------------------------

Nutrition Information

Recipe serves 2
Entire Recipe /

per serving




Calories:

551

/ 275.5




Total Carbohydrates:

20

/ 10


Dietary Fiber:

7

/ 3.5




Total Fat:

46

/ 23


Saturated Fat:

7

/ 3.5




Cholesterol:

21

/ 10.5




Protein:

18

/ 9




Calcium:

418

/ 209




Sodium:

581

/ 290.5
General Technical Details and Disclaimer:
Measurements are actual measurements used for calculation. If there are no values the nutritional numbers were simply too small.
I try to be accurate, but I do not guarantee it. I use 'grams' as the unit of weight; with an approximate conversion to ounces.
My information comes from my own digital, computerized scale
and the USDA Nutrient Data Library: http://ndb.nal.usda.gov/