Sautéed Cabbage
Total time: 15 minutes
     This is a quick way to use up a bit of cabbage.  The slightly sweet-sour flavor make this an excellent side dish for hearty meats.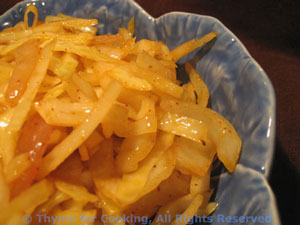 Ingredients:
1 - 1 1/2 cups shredded cabbage, 105gr, 3.7oz
1 tbs olive oil, 13.5gr, 5oz
1 tbs sherry vinegar or red wine vinegar, 16gr, .56oz
1 tbs brown sugar, 9gr, .3oz
1/2 tsp chili powder
 Instructions:
Shred cabbage: cut a slice off of the head, lay the slice cut side down, cut into 4ths, then, cutting across, slice very finely: 1/16" - 1/8" (.3cm).  Do not use the core of the cabbage - you'll recognize it when you see it.
Heat oil in a large nonstick skillet.  Add chili powder and sauté briefly.
Add cabbage and sauté 5 - 8 minutes, until cabbage start to wilt.
Add vinegar and sugar, and stir well. 

Cover, reduce heat and let cook for 5 minutes.  Serve

.
---------------------------------------------------------
               Nutrition Information
             
Recipe serves 2  
          Entire Recipe / per serving
Calories:   275 / 137.5
Total Carbohydrates:  28 / 14
          Dietary Fiber:   3 / 1.5
Total Fat:   14 / 7
         Saturated Fat:  2 / 1
Cholesterol:   0 / 0
Protein:   1.5 / .75
Calcium:  54 / 27
Sodium:    26 / 13
General Technical Details and Disclaimer:
Measurements are actual measurements used for calculation. If there are no values the nutritional numbers were simply too small.
I try to be accurate, but I do not guarantee it.  I use 'grams' as the unit of weight; with an approximate conversion to ounces.
My information comes from my own digital, computerized scale and the USDA Nutrient Data Library: http://ndb.nal.usda.gov/