Sautéed Carrots with Bacon & Onion
Total time: 25 minutes
     Based on an Italian recipe using pancetta.  The bacon works well with the sweet carrots and cooking off the pan juices leaves them with a lovely glaze.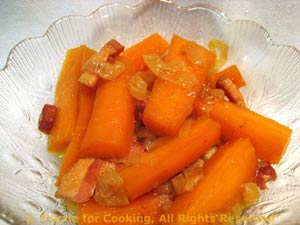 Ingredients: 
2 - 3 medium carrots, 240gr, 8.5oz
1 tsp olive oil, 4.5gr, .16oz
2 slices bacon or Prosciutto (different taste...), 16gr, .56oz cooked, drained bacon
1 small onion or 1/2 large, 88gr, 3.1oz
pepper
 Instructions:
Peel carrots, cut in half, then each half again so you have carrot sticks.
Chop onion.
Put oil in small skillet and add bacon, frying until crisp.
Remove bacon and all but 1 tbs fat.
Add onions and sauté until transparent.
Add carrots and 1/4 cup water, cover and simmer until done - about 15 minutes.
Uncover, turn heat up a bit and cook off pan juices.
Crumble bacon.
Add bacon and pepper to carrots and serve.
---------------------------------------------------------
               Nutrition Information
             
Recipe serves 2 
          Entire Recipe / per serving
Calories:   259 / 129.5
Total Carbohydrates:  31 / 15.5
          Dietary Fiber:   7 / 3.5
Total Fat:   11.5 / 5.75
         Saturated Fat:   3 / 1.5
Cholesterol:   18 / 9
Protein:   9 / 4.5
Calcium:   102 / 51
Sodium:    552 / 276
General Technical Details and Disclaimer:
Measurements are actual measurements used for calculation. If there are no values the nutritional numbers were simply too small.
I try to be accurate, but I do not guarantee it.  I use 'grams' as the unit of weight; with an approximate conversion to ounces.
My information comes from my own digital, computerized scale and the USDA Nutrient Data Library: http://ndb.nal.usda.gov/