Grilled Pork Chops with Peanut Marinade
Total time: 30 minutes
     Similar to a satay, this slightly spicy marinade goes well with pork.  For maximum flavor, poke the pork with a fork after adding the marinade to allow it to penetrate the meat.  We had thin chops that cook quickly; try not to overcook, slightly pink is now preferred for pork.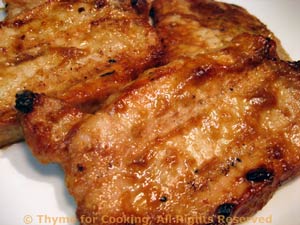 Ingredients:
2 - 4 pork chops, 350gr, 12.5oz boneless top loin chops

Marinade

1 tbs peanut butter, creamy, 16gr, .56oz
1 tbs soy sauce, 16gr, .56oz
1 tbs red wine vinegar, 15gr, .53oz
1/4 tsp garlic powder
1/4 tsp powdered ginger
1 tbs sesame or walnut oil, 13.5gr, .48oz
2 tbs olive oil, 27gr, .96oz
 Instructions:
Mix all ingredients for marinade and pour over chops.  Let marinate for 15 - 20 minutes. 
Cook on barbecue for 5 - 8 minutes a side or until done.  Should be slightly pink near bone when done - take a peak (techniques). 

Or

fry in nonstick skillet over medium-high heat the same amount of time.  Serve.
---------------------------------------------------------
              

Nutrition Information
             
Recipe serves 2 
          Entire Recipe /

per serving




Calories:

  

886

/ 443




Total Carbohydrates:

  
4
/ 2


          Dietary Fiber:

1

/ .5




Total Fat:

 

59

/ 29.5


         Saturated Fat: 

14

/ 7




Cholesterol:

 

234

/ 117




Protein:

 

80

/ 40




Calcium:

 

35

/ 17.5




Sodium:

 

1144

/ 572
General Technical Details and Disclaimer:
Note:  Pork chops vary greatly in calories; this assumes top loin chops with fat trimmed but not completely removed.  Center cut chops are higher; sirloin cut chops are lower.
Another Note:  It's assume that 1 tbs of the oil gets left behind. ie. not eaten.
Measurements are actual measurements used for calculation. If there are no values the nutritional numbers were simply too small.
I try to be accurate, but I do not guarantee it.  I use 'grams' as the unit of weight; with an approximate conversion to ounces.
My information comes from my own digital, computerized scale
and the USDA Nutrient Data Library: http://ndb.nal.usda.gov/