Butternut Squash Soup
Total time: 30 minutes
     Butternut squash makes a lovely, creamy soup with no cream and very little fat.  I added a bit of tomato sauce to this which added another layer of flavor; a bit of tart to the squash's sweet.  A bit of Sherry, and a dollop of crème fraiche or sour cream to finish and you have the perfect autumn soup.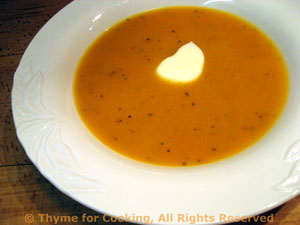 Ingredients:
2 medium leeks, 160gr,  5.6oz
1/2 butternut squash, about 3 cups, 350gr,  12.3oz
2 1/4 cups chicken stock, 500gr,  17.6oz
1 tbs olive oil, 13.5gr,  .42oz
1 tbs tomato paste, 15gr,  .53oz
2 tbs dry sherry, 30gr,  1oz
1/2 tsp dried basil
1/2 tsp dried thyme
2 tbs crème fraiche, Greek Yogurt or sour cream, 37.5gr,  1.3oz Yogurt
 Instructions:
Peel butternut squash using potato/vegetable peeler.  Cut it in half the long way (blossom to stem) and remove seeds.  Cut the squash into small cubes, roughly 3 cups. 
Clean and slice the leeks. 
In medium sauce pan sauté leeks in oil until transparent. 
Add squash and stock.  Heat to boiling, reduce heat and simmer 15 - 20 minutes, until squash is tender. 
Purée soup using blender, doing mainly the solids first, add broth as needed so you can control the liquid - the liquid content of the squash can vary.   When all the solids have been puréed you can add more broth as desired.  
Return the soup to heat, stir in the herbs, tomato and sherry.  Gently reheat.  

To serve,

ladle into soup plates or bowls, put dollop of crème fraiche in the center and serve.
---------------------------------------------------------
              

Nutrition Information
            

 


Recipe serves 2  
          Entire Recipe /

per serving




Calories:

  

518

/ 259




Total Carbohydrates:

  

75

/ 37.5


          Dietary Fiber:

12

/ 6




Total Fat:

 

18

/ 9


         Saturated Fat:  

4

/ 2




Cholesterol:

 

22

/ 11




Protein:

 

13

/ 6.5




Calcium:

 

356

/ 178




Sodium:

 

969

/ 484.5
General Technical Details and Disclaimer:
Measurements are actual measurements used for calculation. If there are no values the nutritional numbers were simply too small.
I try to be accurate, but I do not guarantee it.  I use 'grams' as the unit of weight; with an approximate conversion to ounces.
My information comes from my own digital, computerized scale and the USDA Nutrient Data Library: http://ndb.nal.usda.gov/