Ricotta Risotto
Total time: 35 minutes
     This is based on a recipe from the cook book 'Risotto'.   This is a very white, very creamy, very rich risotto.  As always, the end result should be almost soup-like, never stiff. Add the spinach at the end so that it just wilts.  Use any leftover in Risotto de Salto.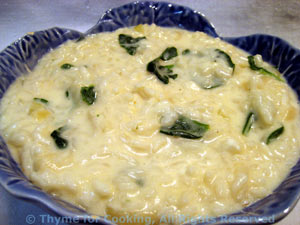 Ingredients:
2/3 cup Arborio rice, 112gr, 4oz

(or other rice specifically for risotto - Carnaroli or Vialone Nano)

1/3 cup dry, white wine, 75gr, 2.6oz
2 1/8 cups chicken stock, 500gr, 17.6oz
2 shallots, 45gr, 1.6oz
1 tsp butter, 5gr, .17oz
1 tsp olive oil, 4.5gr, .15oz
1/3 - 1/2 cup spinach, 30gr, 1oz
1/3 cup whole milk ricotta, 90gr, 3.2oz
1/3 cup Parmesan cheese - freshly grated, 33gr, 1.2oz
 Instructions:
Heat chicken stock and keep hot over low heat.
Slice the spinach into strips.
Peel and chop shallots.
In medium saucepan heat butter and oil over medium heat.  Add shallots and sauté until tender, about 5 minutes.
Add rice and sauté stirring, for 2 - 3 minutes until rice has white center.
Add white wine and stir.
When wine is almost absorbed add a 1/2 cup of stock, stir.
When stock is almost absorbed add another 1/2 cup and continue adding 1/2 cup at a time and stirring.
Reserve 1/4 cup to add at the end.  Taste the rice.  They should be just 'al dente' - slightly resistant to the tooth but fully cooked.  You can add a bit of water at this point if needed but you shouldn't have to.
Add the rest of the stock, the spinach and both cheeses.  Stir vigorously over heat to combine well and wilt the spinach.
Spoon into a bowl and serve.
---------------------------------------------------------
               Nutrition Information
             
Recipe serves 2 
          Entire Recipe / per serving
Calories:  912 / 456
Total Carbohydrates:  106 / 53
          Dietary Fiber: 5 / 2.5
Total Fat:  32 / 16
         Saturated Fat: 16 / 8
Cholesterol:  101 / 50.5
Protein:  40 / 20
Calcium:  634 / 317
Sodium:   1452 / 726
General Technical Details and Disclaimer:
Measurements are actual measurements used for calculation. If there are no values the nutritional numbers were simply too small.
I try to be accurate, but I do not guarantee it.  I use 'grams' as the unit of weight; with an approximate conversion to ounces.
My information comes from my own digital, computerized scale
and the USDA Nutrient Data Library: http://ndb.nal.usda.gov/