Grilled Asparagus
Total time: 20 minutes
     General consensus is that one should not grill white asparagus.  I agree - green is better, but white will taste delicious as well.  It just gets a bit more 'golden' before it's done.  Finish with some fresh herbs.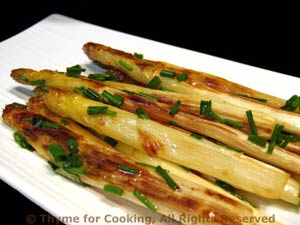 Ingredients:
8oz (250gr) asparagus spears

-

this time fatter ones are best

,

225gr, 8oz

2 tsp olive oil, 9gr, .32oz
1 tbs butter, 14.2gr, .5oz
1 tbs freshly snipped chives.
 Instructions:
Prepare asparagus by snapping off the tough ends.  If it's white asparagus use a vegetable peeler and peel stalk end half way to tip. 
Rub with olive oil. 
Either cook directly on barbecue grill (being careful not to let any slip through, or on a mesh grill pan.  Turn frequently.  Should be done in 7 - 15 minutes depending on size and heat.  They will start to brown slightly but stay a lovely bright color.  Can also be baked at 400F (200C) for 15 - 25 minutes.  When done toss with butter and sprinkle with chives.  Either serve immediately or keep warm in low (150F, 65C) oven for up to 15 minutes.
---------------------------------------------------------
               Nutrition Information
             
Recipe serves 2 
          Entire Recipe / per serving
Calories:   227 / 113.5
Total Carbohydrates:  9 / 4.5
          Dietary Fiber:   5 / 2.5
Total Fat:   20 / 10
         Saturated Fat:   9 / 4.5
Cholesterol:   31 / 15.5
Protein:   5 / 2.5
Calcium:   57 / 28.5
Sodium:    86 / 43
General Technical Details and Disclaimer:
Measurements are actual measurements used for calculation. If there are no values the nutritional numbers were simply too small.
I try to be accurate, but I do not guarantee it.  I use 'grams' as the unit of weight; with an approximate conversion to ounces.
My information comes from my own digital, computerized scale and the USDA Nutrient Data Library: http://ndb.nal.usda.gov/