Pan-Fried Salmon with Lemon and Capers
Total time: 15 minutes
     Lemon and capers combine to add lots of flavor to this simple preparation.  Quickly seared, they can finish cooking over low heat while you enjoy the salad.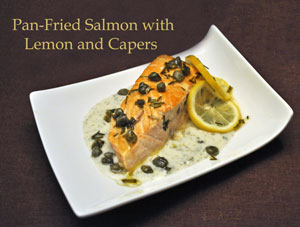 Ingredients:
2 salmon fillets,  12oz total weight, 350gr, 12.5oz
1 lemon, 58gr, 2oz
1 tbs capers, 8.6gr, .3oz
1 tsp olive oil, 4.5gr, .16oz
1 tsp butter, 5gr, .18oz
 Instructions:
Slice lemon, 4 - 6 slices. 

Heat butter and oil in large non-stick skillet over medium-high heat. 
Add salmon, skin-side up, and sauté 5 minutes, until it starts to brown. 
Turn skin side down.  Lay the sliced lemon on top of the salmon and sprinkle with capers.
Turn the heat to low, cover and let finish cooking, 5 - 10 minutes, depending on thickness. 
Remove and slide the filets of the skin. 

Serve, garnished with lemon slices and cap

ers, dill sauce on the side.
White Wine and Dill Sauce 
 Ingredients:
1/3 cup chicken stock, 75gr, 2.65oz
1/3 cup white wine, 75gr, 2.65oz
1 tsp dried dill weed (leaves - not seeds)
1 tsp dried chives
2 tsp cornstarch (maizena, corn flour) dissolved in 1 tbs water, 5.2gr, .18oz
1/3 cup crème fraiche or sour cream or Greek yogurt, 100gr, 3.5oz Greek yogurt
 Instructions:
In small saucepan over medium heat bring wine and stock to a boil. 

Mix cornstarch in water and stir into simmering stock.  Cook until thickened - should be quite thick. 
Stir in herbs. 
Remove from heat and stir in crème fraiche.  Cover and keep warm until serving.
---------------------------------------------------------
              

Nutrition Information
            

 


Recipe serves 2 
          Entire Recipe /

per serving




Calories:

  

1037

/ 518.5




Total Carbohydrates:

  

18

/ 9


          Dietary Fiber:

2

/ 1




Total Fat:

 

65

/ 32.5


         Saturated Fat: 

20

/ 10




Cholesterol:

 

225

/ 112.5




Protein:

 

77

/ 38.5




Calcium:

 

212

/ 106




Sodium:

 

574

/ 287
General Technical Details and Disclaimer:
Note:  Nutrition info assumes you eat everything, including the lemon...
Measurements are actual measurements used for calculation. If there are no values the nutritional numbers were simply too small.
I try to be accurate, but I do not guarantee it.  I use 'grams' as the unit of weight; with an approximate conversion to ounces.
My information comes from my own digital, computerized scale and the USDA Nutrient Data Library: http://ndb.nal.usda.gov/