Green Beans with Bacon and Shallots
Total time: 30 minutes
     Using bacon and onion or shallots to flavor green beans goes back to my childhood.  My mother would 'cook up a mess of beans', with lots of bacon and onion to flavor them, then finish the whole lot off with heavy cream.  It was wonderful.... I try for the flavor without quite so much artery clogging fat!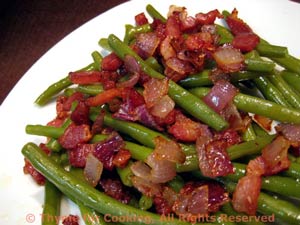 Ingredients:
2 slices bacon, 16gr, .56oz, cooked, drained
1 - 2 shallots, 45gr, 1.6oz
6oz green beans, 170gr, 6oz
 Instructions:
Top and tail beans - cut off the ends.  Cut into 1 1/2 inch lengths (4cm). 
Chop shallots.
Sauté bacon in small frying pan.  When bacon is crisp remove and crumble. 
Drain all but 1 tbs fat from pan.  Add shallots and sauté until transparent. 
Add beans, 1/4 cup of water, turn heat to low, cover and simmer until done - about 15 minutes.  If beans dry out add a little more water. 
When done transfer to serving bowl (there should be little or no liquid left - if there is just pour it off).  Add crumbled bacon and serve.
---------------------------------------------------------
               Nutrition Information
             
Recipe serves 2 
          Entire Recipe / per serving
Calories:   169 / 84.5
Total Carbohydrates:  20 / 10
          Dietary Fiber:   6 / 3
Total Fat:  6 / 3
         Saturated Fat:   2 / 1
Cholesterol:   18 / 9
Protein:   10 / 5
Calcium:   82 / 41
Sodium:    399 / 199.5
General Technical Details and Disclaimer:
Measurements are actual measurements used for calculation. If there are no values the nutritional numbers were simply too small.
I try to be accurate, but I do not guarantee it.  I use 'grams' as the unit of weight; with an approximate conversion to ounces.
My information comes from my own digital, computerized scale and the USDA Nutrient Data Library: http://ndb.nal.usda.gov/