Rutabagas with Bacon and Onion
Total time: 35 minutes
     Rutabagas, or Swedes as they are known in the UK, are a yellow turnip.  They add sweetness to vegetable soups or stews and are excellent, braised on their own, or, as in this case, with a bit of bacon and onion.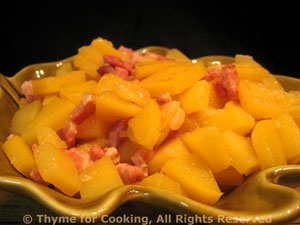 Ingredients:
2 slices bacon, 16gr, .56oz cooked weight, 1 tbs fat retained
1/2 medium onion, 88gr, 3.1oz
1 rutabaga, 450gr, 15.8oz
1 tbs butter, 14.2gr, .5oz

1 tbs sherry, 15gr, .53oz

 

(not cooking - the real stuff - never cook with anything you wouldn't drink)

 
 Instructions:
Peel rutabaga (with a vegetable peeler - like a potato) and cut into pieces about 1/2" X 1/4" - you will need a big knife; it's rather hard.
Fry bacon in a medium sauce pan.  When crisp remove and drain all but 1 tbs fat.
Add onion and sauté until tender, about 5 minutes.
Add rutabaga, 1/2 cup water and bacon.
Bring to a boil, cover, reduce heat and simmer 15 - 20 minutes.
Test for doneness - taste, should be like a cooked potato.
When done, drain any remaining liquid, stir in butter, sherry and serve.
---------------------------------------------------------
               Nutrition Information
             
Recipe serves 2  
          Entire Recipe / per serving
Calories:   522 / 261
Total Carbohydrates:  45 / 22.5
          Dietary Fiber:   12 / 6
Total Fat:   32 / 16
         Saturated Fat:  14 / 7
Cholesterol:   61 / 30.5
Protein:   12 / 6
Calcium:  238 / 119
Sodium:    580 / 290
General Technical Details and Disclaimer:
Measurements are actual measurements used for calculation. If there are no values the nutritional numbers were simply too small.
I try to be accurate, but I do not guarantee it.  I use 'grams' as the unit of weight; with an approximate conversion to ounces.
My information comes from my own digital, computerized scale and the USDA Nutrient Data Library: http://ndb.nal.usda.gov/